I find myself and in the hifz communities I run, the question, "What is the best Quran memorisation app?" Things have changed a lot over the years and so I turned to the communities to see what apps they are using and would recommend.
There were at least 50 different resources mentioned. I've taken some time out to try to find them and try most of them out for myself. Everyone has different preferences and needs. Alhamdulillah, there's something for everyone here. You might find it useful to use more than one app. I've also added some quick thoughts on each app. The ratings are what I would give it based on my experience on an Android device.
When I was memorising Qur'ān, I was living with tape cassettes and VHS film tapes. Eventually, I was using a Digital Quran. Back then, the excuses to recite Qur'ān were far less. We would smell the mus'haf. Decorate the mus'haf and keep various copies. There was an amazing feeling. Today, we have access to the Qur'ān like no other time. It's in our pockets and hands living on apps and the internet. It's everything we need yet no matter how close it is to our fingertips, for many of us, the Qur'ān remains an 'icon'. I hope this list inspires you and motivates you to become the 'icon' yourself.
Let's take a look at the apps (in no specific order).

This is by far the most mentioned app in the community! I remember first seeing this in 2018/2019 and the project has come a long way since. Tarteel uses machine learning (artificial intelligence) that listens to your recitation and detects your mistakes. Their tech also powers the voice search on the amazing quran.com (which some of you also use for your hifz). The premium features are great. Mistake detection is a work in progress. Mistakes are found at the word level, not letters (hurūf), diacritics (i'jām / harakāt), or tajwīd. The mistakes that are picked up, as a result, can be too sensitive. I couldn't get past the Fātiha, no matter what I did.

This is an often mentioned app and one that is easily accessible. I often recommend this app because it has Dr. Ayman al-Suwaid included in the audio list. The team behind this have also built some other amazing apps for recitation, tafsīr, learning Arabic, memorising and testing your Qur'ān or texts like Muqaddimat al-Jazariyyah.

The dev, brother Shoaib has done a great job here. This has a great range of features perfect for memorization. They have something called the 'Intellij Mode' that makes the process more convenient. You can set repetition amounts for new āyāt, pauses, and repeat times for the set. A really nice app.

This comes to us through the team at Muslim Central and comes with basic features that come with any other app. The great thing about this is that it's free, totally ad-free, and can be used on any device.

Another app that was mentioned a number of times in the community. This app has everything you'd need but the downside is that it's restricted to one type of script.

From the get-go, I was really impressed by this one. The onboarding process starts with a mus'haf selection (King Fahad copies, and the Madani Indo-Pak). The feature-rich app is a perfect way to get going with your hifz.

This app has a lot going on! Plastered with ads and jampacked with different features. Although this was one of the apps mentioned, it's not an app I would recommend for the purposes that we are seeking. I would place Muslim Pro in the same category – which was another mentioned app by the community.

This app took a long time to load on my device and was stuck on load. As a result, i didn't get to test this one. It's a shame but being a multi-tiered app with ads, just like Quran Majeed – it's not one I would recommend.

This app has some great features especially around understanding the Qur'ān. It can prove to be particularly useful for this purpose.

Those of you that recite using this particular mus'haf will find this app useful. I found that it can be slightly buggy and you can't read offline (Android).

Based only on the 'uthmānī script, this app has some great features and allows you to focus on an āyah at a time. You tick each āyah off as you go along. It lacks the mus'haf view and features available in other apps but it's a great app that allows you to focus on the matter at hand.

When using this there's an onboarding process that requires you to have an account. There are two: a student and a teacher. The good thing is that you can access the app as a guest. It allows you to record your recitation as an assignment and have it checked by a teacher directly. There are also contests. This is a great feature. The UX/UI isn't great at all.

This has been one of the best app experiences and design (UX/UI) so far. Has a great varied selection of reciters. You can select three types of 'uthmānī scripts (in Mus'haf view). It feels more of an app that's dedicated to high-quality audio. You can follow a recitation alongside written text. A great app, but lacks the features you can get elsewhere that are needed for memorization.


No such list would be complete without Quran.com. It's fantastic and always getting better. They also have Android apps for Qaloon and Warsh. I have used the Naskh version of the app for many years without a problem. A great option.

This one left me slightly confused because the version of the app that I downloaded (مصحف المدينة النبوية) doesn't seem to appear on the Play Store. As for my experiences on the one I had, the page quality is amazing. You could change the interface language to English. I would like to see a more diverse range of reciters and more access to English explanations. However, when downloading the version now found in the store – I had a different experience. If you don't know Arabic, you'll have a difficult time.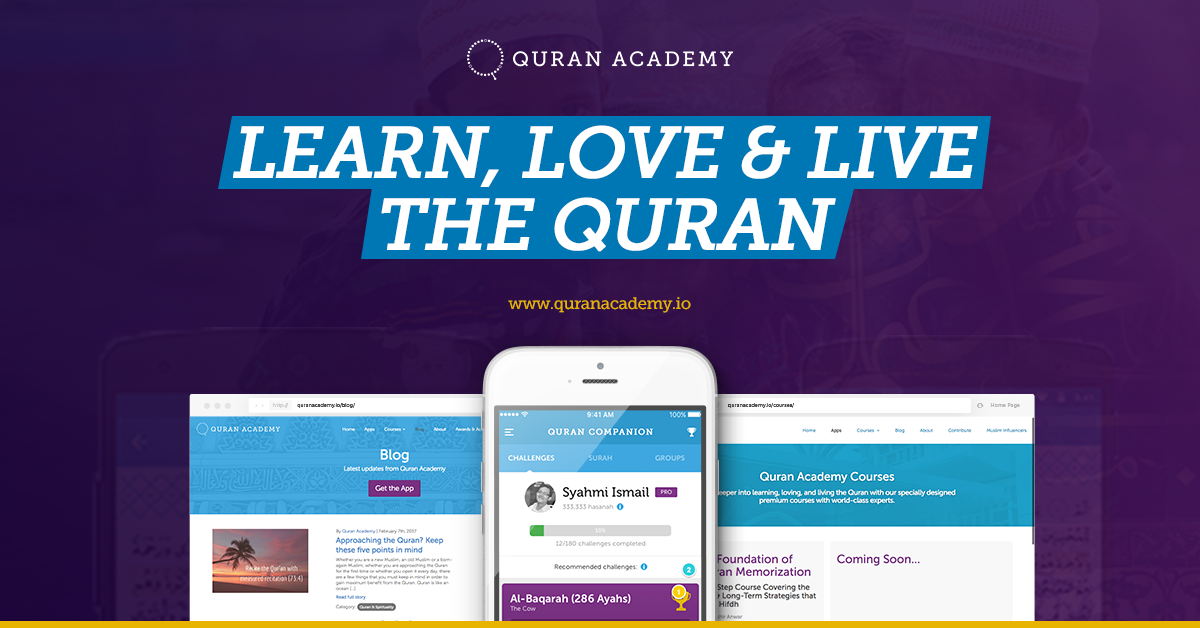 Quran Academy was getting somewhere with this app back in 2016/2017, with a great UI/UX and unique features. But there have been no updates or focus on the app since 2018. As a result, many are experiencing bugs and have felt they've wasted money. The app is literally of no use if you don't have a premium. While they have a great reader and Academy TV to learn Arabic, it's a shame they couldn't sustain work on the apps. I believe they would have been my go-to app if they had.

This is a great app choice. You can mark mistakes and comments. has a great audio player and you can hide verses and touch them to have them appear. I particularly enjoyed seeing the test section. The ayah matcher tests how much you remember sequence-wise. So it'll give you random ayah to select and you have to complete the sequence. The word matcher is like a word puzzle. You have to put an ayah together using the choices provided. The ayah finder is where you guess the location of an ayah. These are great tests and additions to the app. What would make this even better was if it had more mus'haf selections available.

This is an app with some great features such as the different riwāyāt (transmissions of the variant readings of the Qur'ān) but it defaults to an Arabic interface, so you'd need to know some Arabic to get around and change the settings to English. The onboarding process was slightly off-putting.

This is an app with a focus on audio and is a great app for those who need a slow recitation that breaks down things word by word. It would benefit from having translation and more repeat options.

This is an app with some great features such as the different riwāyāt (transmissions of the variant readings of the Qur'ān) but it defaults to an Arabic interface, so you'd need to know some Arabic to get around and change the settings to English. The onboarding process was slightly off-putting.

This is an app that I am exciteed about. Quran Mobasher is the first mobile app that allows students to learn Quran for free with qualified teachers. The premise is that you can log on any time and recite to a live to a teacher for free either via video or audio call. You have to select teachers and exchange messages. You can favourite teachers and make appointments. It is being used to correct recitation, memorisation and teaching children. The one downside is that the teachers are predominantly Arab and so there can be language barriers for some teachers. I did have an English speaking student try it and she was able to recite and have a good session with a female teacher!
22-56. Other resources mentioned:
So what's your best quran memorization app?
1
- Like and share!