I don't know of any Islamic discipline that has as many books dedicated to it as Tajweed does.
There's always someone writing one. I've even been asked to produce one myself.
But there are far too many, like the Qa'idah books.
One of the possible reasons for this is that Tajweed had taken a dip in our communities.
In the 1940s all the way to the 1980/90s, there had been an absence of Tajweed even among Arabs/North Africa. As a millennial and I'd seen what the standards were like compared to the present day (2022). Today it's become a more standard place to hear everyone learning Tajweed. It wasn't like this before. In the last 30 years, the efforts of scholars, the spread of audio recordings, and technological advances revived Tajweed. It was this that allowed me to learn correct pronunciation during the 90s. I would listen to tape cassettes of Egyptians reciters, then audio files, and eventually went to Egypt to be with them myself.
Today, we have access to courses online, YouTube videos, articles and resources. Books still have a place. Much of the great material is in Arabic and in recent years we're beginning to see more in English.
Given that there are so many books though, it presents a problem. People don't know what book they should go with. Every teacher has a different approach to teaching and will prefer different books.
I'm going to share what I've found to be the best available resources in English to date (2023). Is there a 'best Tajweed book'?
By Anisa Najam (Use QARI for a discount)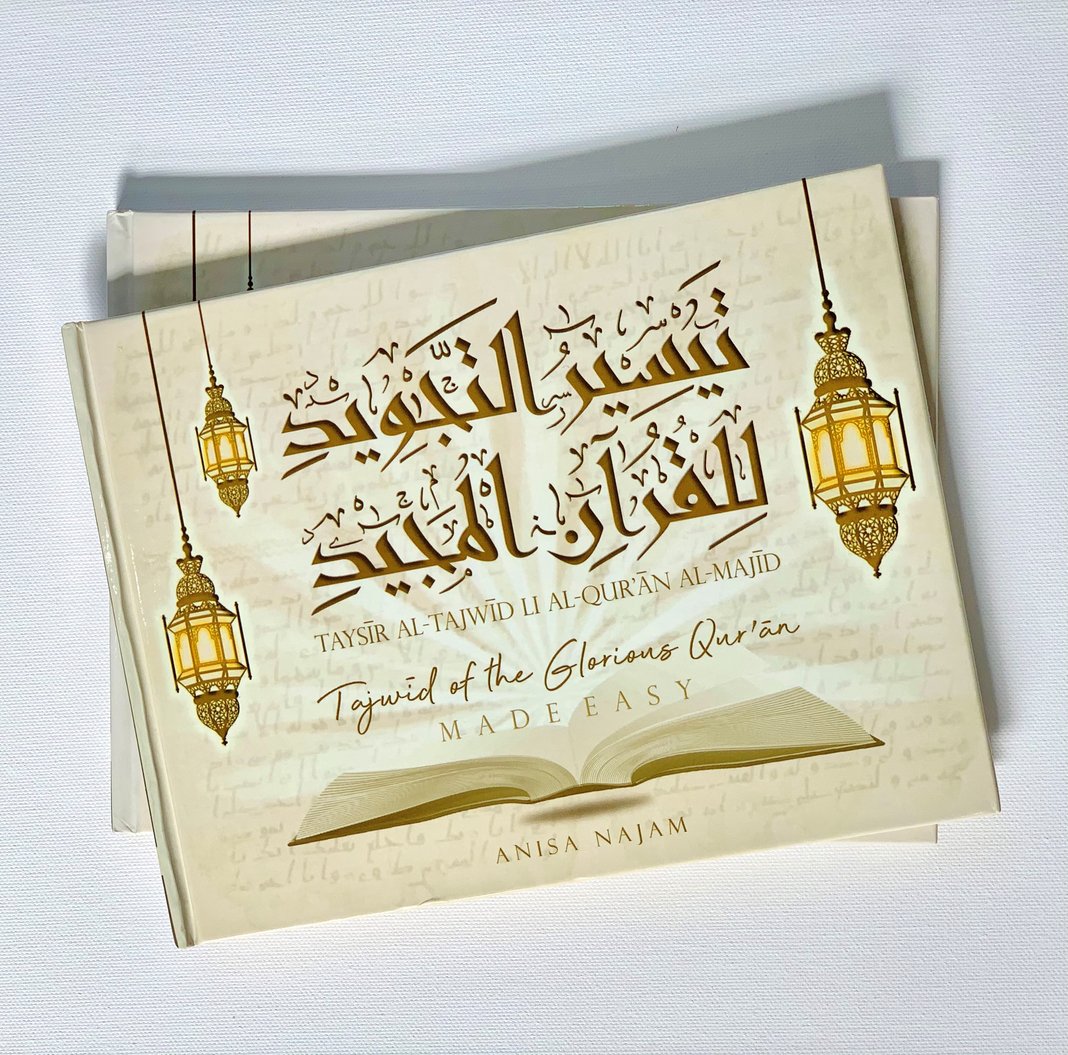 This is a brilliant high quality hardback book consisting of 92 pages. I recieved a copy today and I can say for sure, it's a must have for any teacher and student. Anisa has done a brilliant job of covering all the basics of Tajweed in an easy way. It does the job!
Here's what I love about it
It's very well presented and designed.
It has a good sequence and approach to the content that makes it easy to follow from start to finish. It's a great resource for those who want to teach and for those that want to learn.
It's simple and straight to the point. There are a lot of books of Tajwīd that are overwhelming. This book might, of course, still be overwhelming for new students but I believe it won't take long to get to grips with.
The inclusion of notes and extras. These add food for thought and a chance for further explanations.
The inclusion of exerpts from authorative, classical texts in the field of Tajweed, highlighting virtues and importance of the various aspects involved. One particular thing I'd noted straight away was how the book subtly places emphasis on starting and stopping. That's an area that I always tell students to pay attention to the most after pronunication. In my experience, it's one of the most forgotten aspects of Tajweed.
The inclusion of motivation through the citation of Qur'ān, Hadīth and the teachers of Tajweed.
I loved the inclusion of the Makhārij Practice Poems. This is something that I hardly see. They make for great practice!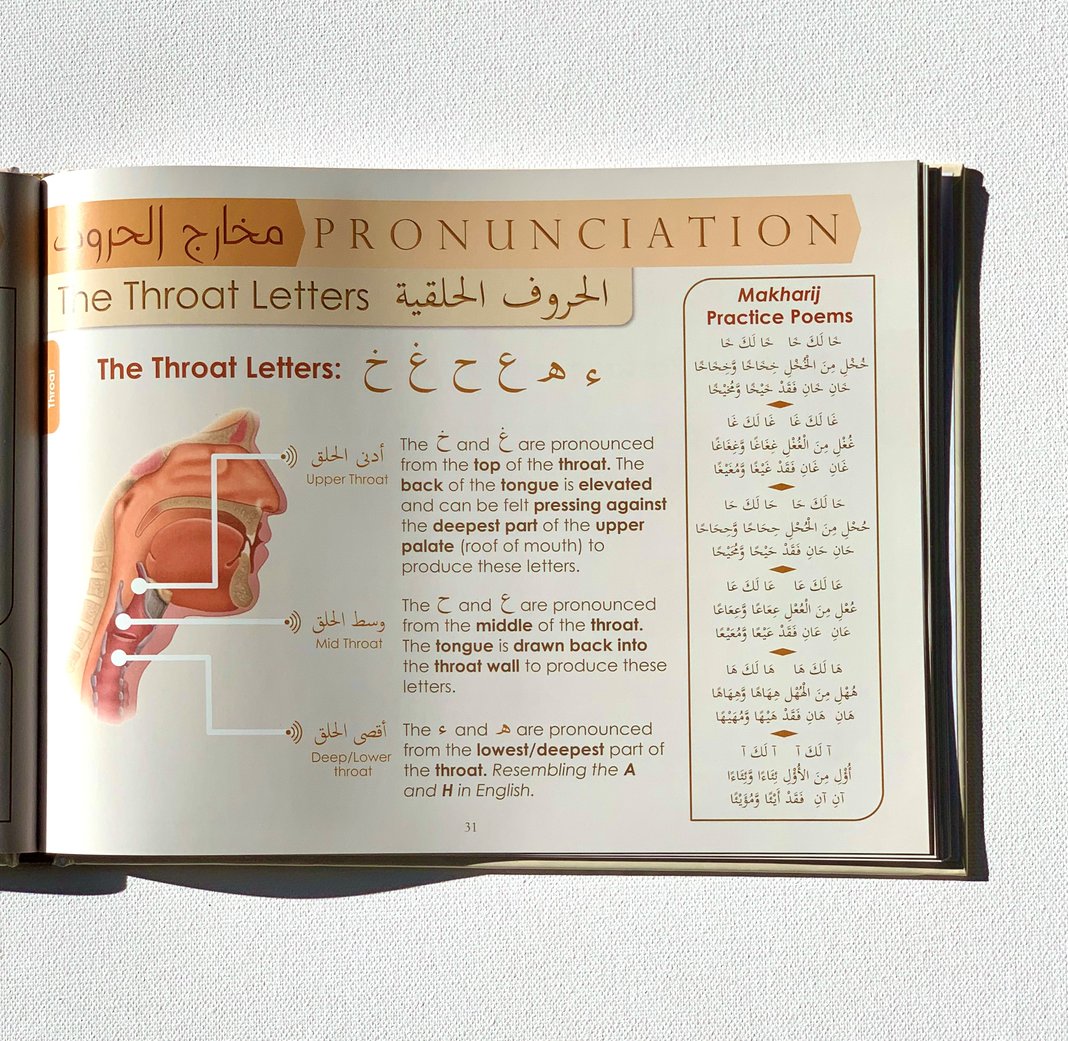 Where it can improve
There are things that I think could be added to make it even better. For example:
perhaps rethink word choices (I don't agree with much of it)
perhaps rethinking some of the design (can appear to be very overwhelming)
extending the notes with practical tips
adding notes to the virtues sections
adding QR codes that take you to a video or audio to listen to how the rule sounds
But, overall, based on my experience at the time of writing, this would be my recommendation for most people. You can order your own copy and get a discount entering the code: QARI (this is not an affliate deal or sponsored post).
By Dr. Ayman Rushdi Swaid
Translated by Asiya Muhammad Akyurt (read her story)
The expensive one. This is another high-quality hardback book but is slightly more advanced than Anisa's work. It covers more with illustrations and QR codes alongside the original Arabic text. I have a copy of the two-volumed 1st edition from 2019. Today there's a new edition available at a variety of stores. My experience is based of the original Arabic work and the 1st edition translation.
This book is designed to be comprehensive and in many respects, I see it as a update to the work of Kareema Carol Czerepinski whose 3-volumed book many of you might be familiar with. A work that is basically an English language commentary of the well known poem of Tajweed, the Jazariyyah. Illustrated Tajweed in many ways is a standard text book and as a text book, it's up there as the best.
I think this is a great book but isn't the most accessible or simple to understand without a teacher. It does make up for it with the interactive elements (QR codes) but of course, Tajweed isn't a subject that can entirely be learnt alone. It's passed on by authorised practitioners. I also don't particularly like the way the subject is organised in the book, it can be difficult to find things.
For those that are more advanced, this is the best book to follow on from Anisa's work.
Other Tajweed Books and Resources
I haven't seen other books, if you have and recommend them, do get in touch.
Conclusion
You should definitely order your own copy of Anisa Najam's book. Get a discount entering the code: QARI (again this is not an affliate deal or sponsored post). If interested in studying further, get Dr. Aymans work.
Bonus: What are the best Qa'idah books to learn Arabic?
My personal to go Qa'idah and learning to read Qur'an books are the Learn to Read bundle by Safar Publications. The Qa'idah, Tajweed, and Juz' 'Amma.
1
- Like and share!